Renew Life 7 Day Bowel Cleanse Capsules
Renew Life
Regular price $0.00 Sale
weight: lb
Ensure optimal bowel health with 7 Day Bowel Cleanse! 7 Day Bowel Cleanse combines 3 types of organic fibre that deliver a blend of soluble and insoluble fibre. This blend of fibre will work to scrub the walls of the colon and absorb toxins like a sponge.

7 Day Bowel Cleanse works to cleanse the colon in three ways:

1) 7 Day Bowel Cleanse provides fibre, which helps to cleanse the colon. There are two main types of fibre: soluble fibre and insoluble fibre. Insoluble fibre has a cleansing effect (like a scrub brush) removing toxins and old hardened material from the intestinal wall by scraping them off as it passes by. It also works to tone the bowel. Soluble fibre works by absorbing toxins (similar to a sponge), soaking up toxins as it passes.
Both of these fibre types are required to effectively cleanse the colon. 7 Day Bowel Cleanse contains a combination of flaxseed, oat bran, and acacia gum which provide a blend of soluble and insoluble fibre similar to what is found naturally in food.
PLEASE NOTE: This is different from most colon cleanses which are psyllium based. Psyllium is a highly soluble fibre, which can be constipating for some people. Also, as it has little insoluble fibre, it is unable to remove hardened material effectively from the colon walls.

2) 7 Day Bowel Cleanse works to stimulate peristalsis in the colon. Peristalsis is the colon's natural muscular movement, which moves material out of the colon. This is extremely important in colon cleansing. 7 Day Bowel Cleanse includes the peristalsis herb rhubarb. Rhubarb is better than laxative herbs such as cascara sagrada or senna which are purgative herbs. These purgative herbs can be addictive over time. Further, they tend to remove food that is currently being ingested, versus removing hardened matter.

3) 7 Day Bowel Cleanse works to soothe and reduce inflammation of the colon. If you have had material in your colon for a long period of time, chances are it has destroyed the intestinal lining to some degree. Therefore, soothing the area and reducing inflammation of the intestinal lining is important.

Directions for Use: Adults take 5 capsules with a glass of water in the morning and take 5 capsules with a glass of water in the evening. Allow 6-12 hours for laxative effective.

Drink plenty of water throughout the day while using this product.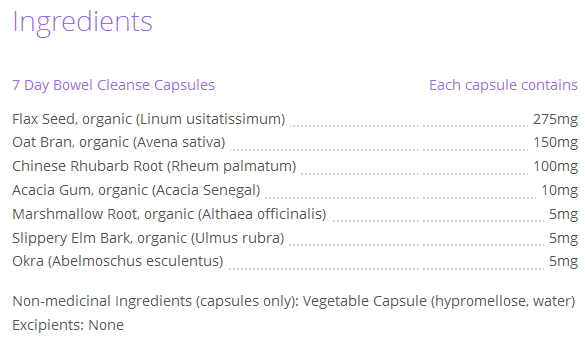 7 Day Bowel Cleanse contains no dairy, wheat, gluten, soy, corn, yeast, animal products, additives or preservatives. Renew Life does not use genetically modified ingredients. All ingredients are NON-GMO.

Warnings: Consult a health care practitioner if you have a kidney disorder, diabetes or difficulty swallowing. Reduce dose or discontinue use if abdominal pain, cramps, spasms and/or diarrhea.

Consult a health care practitioner if you experience chest pain, vomiting, or difficulty breathing after taking this product and/or if symptoms worsen or if laxative effect does not occur within seven days. Hypersensitivity, such as an allergy has been known to occur; in which case, discontinue use.

Do not use if you currently have faecal impaction or symptoms such as abdominal pain, nausea, vomiting or fever. Do not use if you have abdominal constriction of the gastrointestinal tract, existing intestinal blockage, atonic bowel, appendicitis, inflammatory colon disease (Crohn's disease, ulcerative colitis) abdominal pain of unknown origin, undiagnosed rectal bleeding, severe dehydration with depleted water or electrolytes. Do not use if pregnant, nursing. Keep out of reach of children.