Renew Life CandiZYME
Renew Life
Regular price $25.99 Sale
weight: lb
CandiZYME is a powerful enzyme product, specifically formulated to destroy Candida and yeast by breaking down its protective cell wall. By destroying the cell wall of these organisms, it enables
CandiGONE (Renew Life's candida cleansing program)
to eliminate a greater number of yeast organisms in a shorter period of time.
Unlike human cells, Candida and yeast cell walls are rigid, which makes them more difficult to destroy. Candida Albicans cell walls are composed primarily of the following polysaccharides; Beta-Glucan, Mannans, and Chitin. Chitin is very resistant to microbial degradation (medical sutures are made of Chitin because of their strength and flexibility). In addition to primary compounds, yeast cells contain cellulose, lipids, and proteins.
CandiZYME destroys the natural defense of the yeast cell -- its hard protective outer coating. Meanwhile, the multi enzyme formula in CandiZYME works to break down nutrients (such as sugars and carbohydrates) that feed Candida and yeast cells. This ensures that the yeast organism is weakened and can be more easily destroyed by the anti-fungals contained in Renew Life's CandiGONE Kit.
Directions for Use:
Take 3 capsules daily before bed at least 2 hours after meals.
PLEASE NOTE:
CandiZYME should be taken as part of a Candida cleansing program (CandiGONE) but can be taken on its own as a preventative measure against the recurrence of Candida and yeast overgrowth.
Ingredients: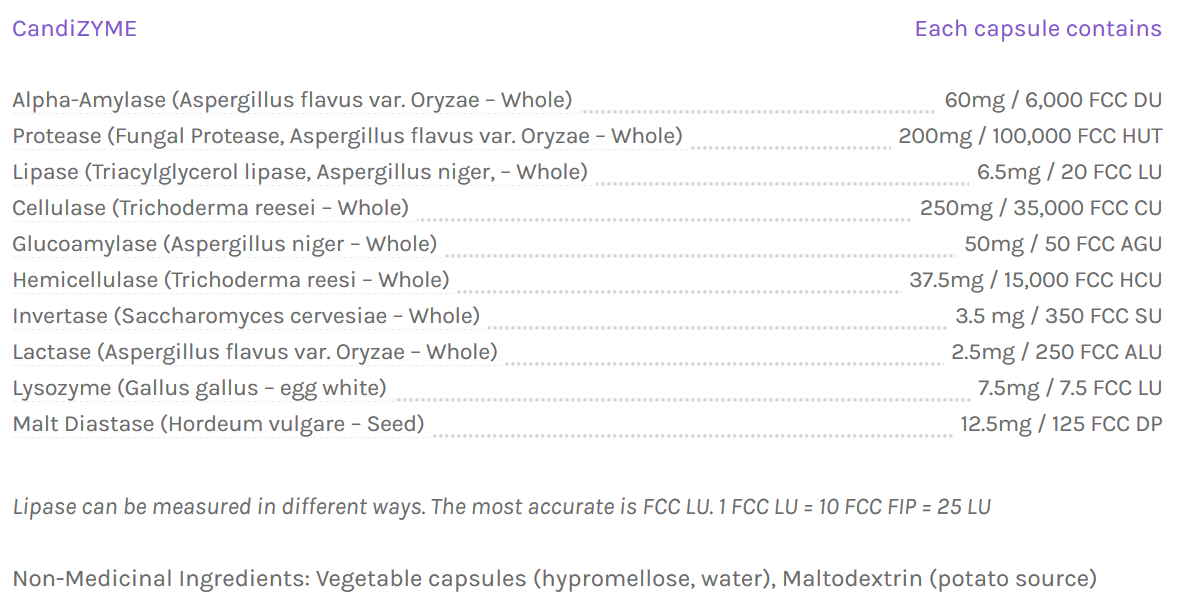 CandiZYME contains no dairy, wheat, gluten, soy, corn, yeast, additives or preservatives. Renew Life does not use genetically modified ingredients. All ingredients are NON-GMO.
Warnings:
Do not use if pregnant, nursing, or after recent surgery. Discontinue use if abdominal pain, nausea or vomiting occurs, unless otherwise directed by a health care practitioner. Do not use if you have a peptic ulcer. Do not exceed recommended dose. Keep out of reach of children.