Renew Life Cerebrum Cereboost with DHA
Renew Life
Regular price $53.99 Sale
weight: lb
Description & Features
What if you could boost your brain power by 10%? Cerebrum helps to improve memory, focus and cognitive performance by 10% for 6 hours after taking it. It is ideal for seniors, professionals, post-secondary students, and anyone wanting to achieve more.

Cerebrum is a revolutionary product that temporarily increases cognitive performance and attention accuracy, as well as improves working memory capacity and speed. Cerebrum contains Cereboost, a specific and unique extract of American Ginseng that has been clinically proven to increase cognitive performance by 10%. Cerebrum also contains the brain boosting essential fatty acid DHA, derived from fish oil.

Cereboost works to temporarily:
Increase cognitive performance
Improve working memory capacity
Increase attention accuracy
Enhance working memory speed
With longer term use the essential fatty acid DHA has been clinically shown to:
Improve brain function
Increase focus and memory retention
Directions for Use:
Adults take 1 capsule per day with food.  Swallow whole, do not crush or chew.
PLEASE NOTE:
 Even though Norwegian Gold Cerebrum contains orange flavour, it should not be chewed as the lipase can cause burning of the throat.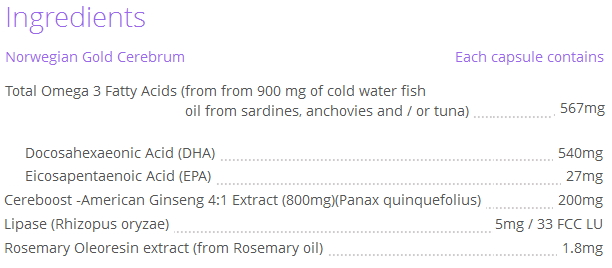 Non-medicinal Ingredients:
Mixed tocopherol concentrate, astaxanthin, natural orange cream flavour, lecithin (from sunflower seed oil), beeswax, Vitamin C (ascorbyl palmitate), aqueous enteric coating, Fish gelatin shell (glycerin, purified water, carob).
Cerebrum contains no PCBs, pesticides, heavy metals, dioxins, gluten, yeast, sugar, salt, dairy, eggs, nuts, wheat, rye or artificial ingredients. Renew Life does not use genetically modified ingredients. All ingredients are Non-GMO.
Warnings:
Consult a health care practitioner if you are pregnant, breastfeeding, taking blood thinners or digoxin. Consult a health care practitioner prior to use if you have diabetes. Hypersensitivity is known to occur; in which case discontinue use. Consult a health care practitioner if symptoms persist or worsen. Keep out of reach of children.