Renew Life First Cleanse
Renew Life
Regular price $24.99 Sale
weight: lb
First Cleanse is designed specifically for first time cleansers or "sensitive�individuals. First Cleanse cleanses the entire body with a formula that is gentle, yet strong enough to be effective. It eases the body into cleansing.
First Cleanse is a 15 day, two part herbal cleanse formulated specifically for the 'first time�or 'sensitive�cleanser. It is designed to gently stimulate the cleansing and detoxification process of the body's 7 channels of elimination: the liver, lungs, colon, kidneys, blood, skin, and lymphatic system.
First Cleanse is strong enough to be effective, yet gentle enough that it will not cause 'cleansing reactions�which may occur when performing a more advanced cleanse. Cleansing reactions include mild headaches, nausea, and flu like symptoms that occur if you detoxify too quickly.
First Cleanse has a very gentle action on the colon. It does not contain laxative herbs such as casgara sagrada or senna. It also does not contain magnesium hydroxide, which is used to hydrate the colon in more advanced cleanses.
PLEASE NOTE:
If you are suffering from constipation, you will want to (a) try Renew Life's advanced cleansing product CleanseSMART, and skip First Cleanse or (b) take Renew Life's CleanseMORE product as needed along with First Cleanse.
Features:
Designed for first time cleansers
Gentle, yet effective
No GMOs
Vegan, Gluten Free and Soy Free
Kit contains 30 First Cleanse I Vegetable Capsules and 30 First Cleanse II Vegetable Capsules.
Directions for Use:
First Cleanse should be taken as follows: 2 capsules of First Cleanse I in the morning with 250ml of water (1 full glass) on an empty stomach, and 2 capsules of First Cleanse II in the evening with 250ml of water (1 full glass) on an empty stomach. Continue this routine daily for 15 days. You can repeat the First Cleanse Kit as required.

PLEASE NOTE:
Increasing your water intake is recommended as water will help with the cleansing process and keep your body hydrated.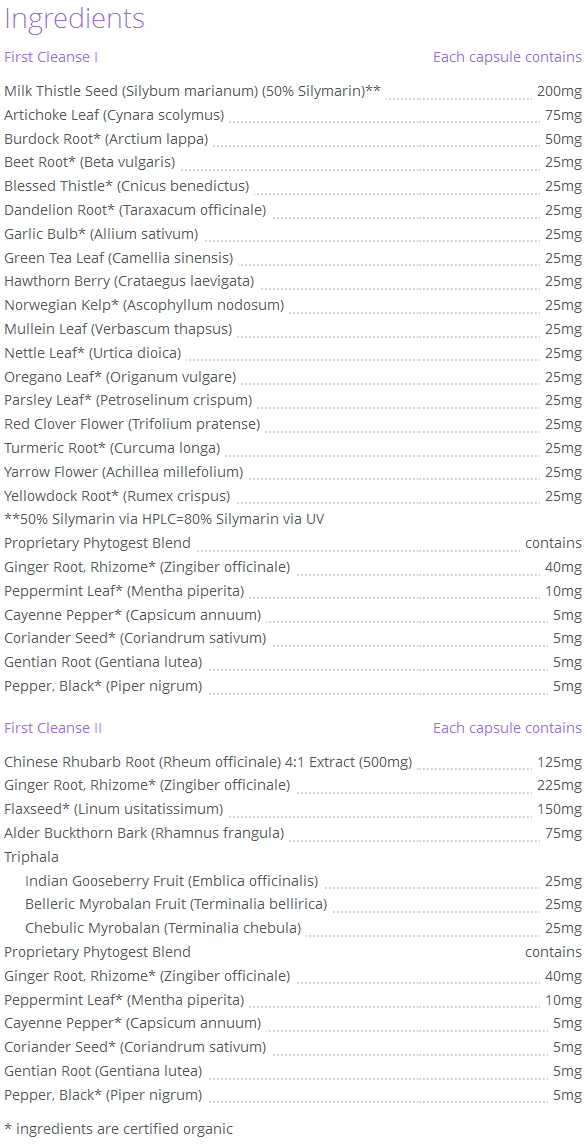 Non-Medicinal Ingredients:
Vegetable Capsules (Hypromellose, water).
Excipients:
None.
First Cleanse does not contain dairy, wheat, gluten, soy, corn, yeast, animal products, additives or preservatives. Renew Life does not use genetically modified ingredients. All ingredients are NON-GMO.
Warnings:
Do not use if you have heart disease, high or low blood pressure, kidney, liver or gallbladder disorder, diabetes or edema or are taking products containing diuretics. Do not use if you have abdominal constrictions of the gastrointestinal tract, potential or existing intestinal blockage, bowel or bile duct obstruction, atonic bowel, appendicitis, inflammatory colon disease, abdominal pain of unknown origin, undiagnosed rectal bleeding, severe dehydration with depleted water or electrolytes. Do not use if you have abdominal pain, nausea, fever or vomiting or if you have a chronic gastrointestinal disorder, inflammation, acute stomach irritation and stomach or duodenal ulcers. Do not use if you are pregnant, breastfeeding. Hypersensitivity has been known to occur, in which case, discontinue use. Do not use if you are allergic to anethole, plants of the Apiaceae/Carrot family, or plants of the Asteraceae/Compositae/Daisy family.
Consult a health care practitioner prior to use if you have gallstones, are taking protease inhibitors, have iron deficiency or anaemia, or excess stomach acid.
Consult a health care practitioner prior to use if you are taking antiplatelet medication, thiazide diuretics, corticosteroids, licorice root or other medications or health products which may aggravate electrolyte imbalance, or are taking cardiac medications such as cardiac glycosides or antiarrhythmic medications, if you have faecal impaction or if you taking blood thinners.
Discontinue use if you experience dizziness, confusion, muscle weakness or pain, abnormal heart beat and/or difficulty breathing.
Consult a health care practitioner if symptoms persist or worsen or if constipation persists after one week of use. Reduce dose or discontinue use if you experience abdominal pain, cramps and/or diarrhea. Keep out of reach of children.