Renew Life FloraBear Probiotics for Kids
Renew Life
Regular price $27.99 Sale
weight: lb
Description & Features
Kids need probiotics too! FloraBEAR, for children aged 4 and up, is an easy and great tasting way to ensure that your child is receiving these much needed probiotics daily. Probiotics help to support a healthy digestive tract and boost immunity for those young and old.

FloraBEAR is a blend of probiotics (good bacteria) specifically formulated for the intestinal tract and colon of children. FloraBEAR is a chewable tablet with citrus flavour from real orange and orange peel for a taste that children will enjoy. Kids love the fun bear shape!

FloraBEAR is a blend of 4 resident strains of probiotics normally found in children: Bifidobacterium Infantis, Lactobacillus Acidophilus, Bifidobacterium Breve, Bifidobacterium Longum. These 4 probiotics work synergistically to help ensure a healthy microbacterial environment in the intestinal tract.

The term 'probiotic�means supporting life. Probiotics are friendly, beneficial bacteria. These bacteria are normal inhabitants of the large and small intestines and are an important part of a healthy digestive system.  Recent research shows that probiotics help improve gastrointestinal function, respiratory and allergy response, as well as help to counter the negative effects of antibiotic use.

Further, these beneficial bacteria help the body to:
Produce vitamins
Absorb nutrients
Control overgrowth of bad bacteria and fungus
Directions for Use:
Children (4 years and older): Take 2 tablets daily at least 2 to 3 hours after food. Take at least 2 to 3 hours before or after taking antibiotics.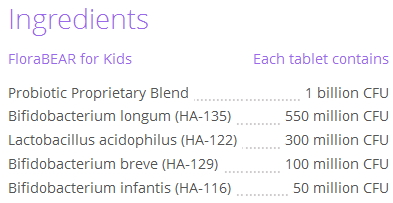 Non-medicinal Ingredients:
Dextrose, FOS (fructo-oligosaccharides) natural orange flavour, stearic acid, citric acid, silicon dioxide, natural tangerine flavour, orange juice crystals.
FloraBEAR contains no wheat, gluten, corn, yeast, or preservatives. Renew Life does not use genetically modified ingredients. All ingredients are NON-GMO.
ALLERGEN WARNING:
This product has come into contact with milk and soy from fermentation ingredients. Do not use if you have a milk or soy allergy.
Warnings:
Consult a health care practitioner prior to use if you have nausea, fever, vomiting, bloody diarrhea or severe abdominal pain. Discontinue use and consult a health care practitioner if symptoms of digestive upset (e.g. diarrhea) occur, worsen, or persist beyond 3 days. Do not use if you have an immune compromised condition (i.e. AIDS, lymphoma, patients undergoing long-term corticosteroid treatment). Keep out of reach of children. Requires refrigeration. Do not expose to heat.
Please be advised that Well.ca follows manufacturer guidelines for storing & shipping probiotics. This product will be shipped with an ice-pack to maintain product efficacy.