Renew Life FloraSMART Extra Strength
Renew Life
Regular price $42.99 Sale
weight: lb
Description & Features
No fridge? No problem! FloraSMART Extra Strength does not require refrigeration. It is shelf stable which makes it a perfect travel companion to protect against diarrhea and food borne illness. Each protected tablet delivers 6 billion beneficial bacteria to help keep digestive issues under control.

FloraSMART EXTRA STRENGTH is a therapeutic strength probiotic. It is formulated to provide 6 different strains of 'good bacteria�to the intestinal tract and colon. FloraSMART EXTRA STRENGTH is designed for those who are travelling and want to protect themselves against parasites and travellers�diarrhea, or for those who have digestive issues that are under control.

FloraSMART EXTRA STRENGTH works to ensure that the bacterial environment in the intestine and colon is at an optimal level for good health. It contains a blend of 6 probiotics which helps to ensure a healthy bacterial environment in the intestinal tract and colon.

FloraSMART EXTRA STRENGTH uses an advanced 'oral controlled�release technology known as Bio-Tract. Bio-Tract delivery technology protects the probiotics through the harsh environment of the stomach and delivers them into the intestinal tract where they can be utilized. 

Recent research shows that probiotics help to improve gastrointestinal functions, respiratory and allergy responses; as well as help to counter the negative effects of antibiotic use. Probiotics support the immune system, balance the intestinal environment, and inhibit the growth of pathogenic organisms (ex. Candida albacans).

Further, these beneficial bacteria help the body to:
Produce vitamins
Digest foods
Control overgrowth of bad bacteria and fungus
Directions for Use:
 Adults, adolescents and children > 6 years old take 1 tablet daily with water on an empty stomach. Do not crush or chew.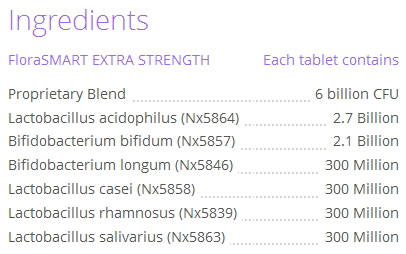 Other Ingredients:
Cellulose, hypromellose, pectin, sodium bicarbonate, sodium carbonate, silicon dioxide (mineral source), stearic acid, turmeric.
Excipients:
 None.
FloraSMART EXTRA STRENGTH contains no wheat, gluten, soy, corn, yeast, additives, or preservatives. Renew Life does not use genetically modified ingredients. All ingredients are NON-GMO.

ALLERGEN WARNING:
This product has come into contact with milk from fermentation ingredients. Do not use this product if you have a milk allergy.
Warnings:
 Consult a health care practitioner prior to use if you have nausea, fever, vomiting, bloody diarrhea, or severe abdominal pain. Discontinue use and consult a health care practitioner if symptoms of digestive upset (e.g. diarrhea) occur, worsen or persist beyond 3 days. Do not use if you have an immune-compromised health condition (i.e. AIDS, lymphoma, patients undergoing long-term corticosteroids treatment). Keep out of reach of children. Store in a cool dry place. Do not expose to heat.