Renew Life Rapid Cleanse 3 Part Total Body Cleanse
Renew Life
Regular price $31.99 Sale
weight: lb
Description & Features
Rapid Cleanse is a 7 day, therapeutic strength cleansing program that uses herbs to cleanse the entire body, and fibre to help eliminate released toxins. Rapid Cleanse is perfect for those who want to perform a shorter cleanse but still demand results.
Rapid Cleanse stimulates the body's 7 channels of elimination to enhance the normal process of detoxification (processing the body's toxins, free radicals, and pollutants) and cleansing (eliminating these substances through the bowel, urinary tract, and skin).
Rapid Cleanse is a 3 part cleanse. Part 1 and 3 are a combination of herbs, minerals, and amino acids contained in vegetable capsules. Part 2 is a powdered fibre supplement from acacia fibre.
Kit contains 14 Rapid Cleanse I Vegetable Capsules, 70 g of Rapid Cleanse II powder, and 14 Rapid Cleanse III Vegetable Capsules.
Directions for Use:
Take 2 capsules of Rapid Cleanse 1 in the morning with a meal providing protein.
Take 1 level scoop of Rapid Cleanse 2 mixed in water or juice (do not mix with carbonated beverages) in the morning and in the evening.
Take 2 capsules of Rapid Cleanse 3 in the evening on an empty stomach (3 hours after eating).
Please ensure that you drink plenty of water while using Rapid Cleanse (8-10 glasses). Water helps with cleansing and keeps the body hydrated.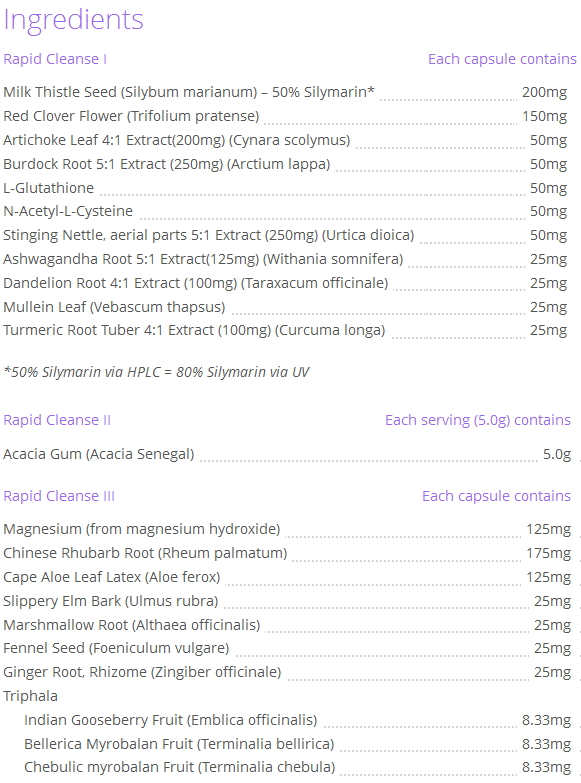 Part I Non-medicinal Ingredients:
Vegetable capsule (Hypromellose, water).
Part III Non-medicinal Ingredients:
Vegetable capsule (Hypromellose, water).
This product contains no dairy, wheat, gluten, soy, corn, yeast, additives, or preservatives. Renew Life does not use genetically modified ingredients. All ingredients are NON-GMO.